What are Dental Exams & Cleanings?
A dental exam and cleaning are necessary as part of your preventative care routine. With the help of an exam, we can detect problems before they get worse. Cleanings are performed by licensed hygienists who work to remove any built-up tartar and stains from your teeth. Cleanings can even check for signs of gingivitis and gum disease so that early treatment is provided.
Why are Dental Exams & Cleanings needed?
If you fail to take good care of your teeth, you may begin to have problems with them later on. Cleanings get rid of the built-up tartar on your teeth, which can contribute to tooth decay and gingivitis. Exams are necessary because they help to look for problems so that early treatment is more effective. You will find that your smile is brighter and healthier thanks to routine exams and cleanings.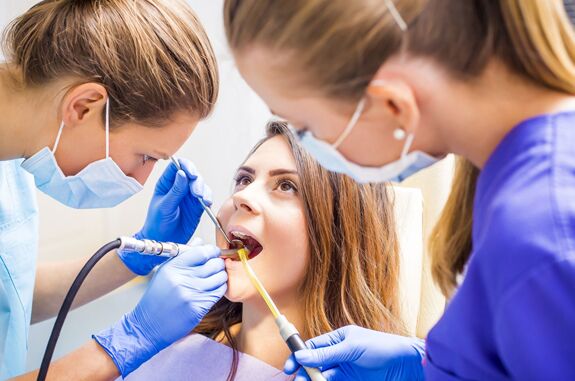 Who is a candidate for Dental Exams & Cleanings?
We recommend that virtually everyone in your family come in for an exam and cleaning. This is so that you can rest assured that your teeth are kept clean and free of built-up tartar and plaque. It's advised that you have your teeth cleaned and examined once every six months. Even if it's been awhile since your last cleaning, it's never too late to take control of your smile and oral health.
What happens during Dental Exams & Cleanings?
We first begin the appointment with a cleaning that is done by a licensed and registered dental hygienist. The hygienist works to clean your teeth of any tartar and stains before flossing and polishing them. We then check your gums for any signs of gum disease or gingivitis and can offer treatment if it's found. Next, Dr. Taube will perform the exam to check for cavities, problematic restorations, cracks and breaks as well as oral cancer. The entire appointment takes less than an hour and is vital to keeping up with the health of your smile.
If you think you might need an exam and cleaning, call us today and our staff members will be happy to further assist you.